REME HALO® Whole Home In-Duct Air Purifier


Take control of your indoor air quality by reducing pollutants that can contribute to foul odors, headache, lung irritation, and fatigue as well as more long-term conditions such as asthma, allergies, and infectious diseases.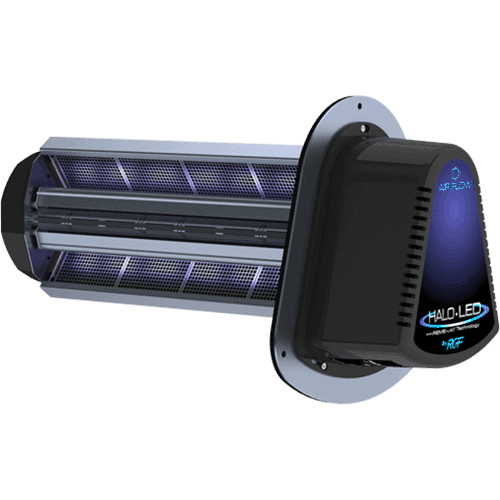 HALO-LED™ Whole Home In-Duct Air Purifier

The HALO-LED™ is the industry's first LED in-duct, whole home and building air purification system that is both mercury free and zero ozone compliant. The HALO-LED™ proactively treats every cubic inch of air conditioned space, reducing airborne and surface contaminants and pollutants through bi-polar ionization and revolutionary, patent pending, REME-LED™ technology.
Details

New REME-LED™ technology utilizing RGF's patented PHI and REME® technologies providing superior indoor air purification.
New hybrid hydrophilic catalyst incorporating the industry's first washable ceramic catalyst
Includes automatic self-cleaning ionizers with carbon fiber brushes to reduce particulates (Patent Pending)
Unlimited cycling capability designed to turn on/off with the HVAC system
24 VAC/DC input (24 VAC transformer included)
Features & Benefits

Long-life replaceable LED cell module with 2.5x longer life than current mercury vapor UV lamp technologies
Industry's first washable catalyst for high load environments (ie. cigar bars, smoking rooms)
Reduces airborne and surface microbials, bacteria, viruses, and mold
Reduction of smoke, odors, VOCs, allergens, dust, and particulate
Mercury and ozone free
Seven-year limited warranty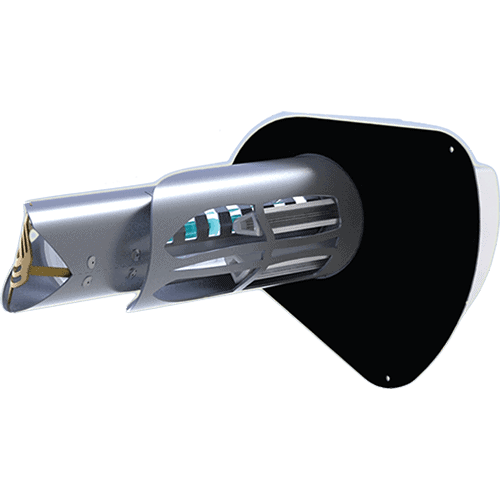 REME HALO® Whole Home In-Duct Air Purifier
The award winning REME HALO® whole home in-duct air purifier is the next generation of indoor air quality (IAQ) technology and capable of purifying every cubic inch of air that your central air conditioning system reaches. Designed to eliminate sick building syndrome risks by reducing odors and air pollutants, the REME HALO® whole home in-duct air purifier is the best solution for whole house and building air purification.
Effective In Killing COVID-19
The REME HALO® has been proven through a third-party study to have an efficacy of 99.9% against the SARS-CoV-2 virus, commonly known as the coronavirus 2019 or COVID-19.
Click here to learn more about the study.
How it Works
The REME HALO® in-duct air purifier utilizes RGF's proprietary Reflective Electro Magnetic Energy technology. Installed into the supply plenum of your existing air conditioning or heating system air ducts, the REME HALO® in-duct air purifier produces Hydro-Peroxide plasma that is distributed through the air handler, through the duct system, and into the conditioned living space. Unlike passive air technologies, which need pollutants to pass through the unit for purification or filtration, the REME HALO® in-duct air purifier sweeps through your home actively purifying pollutants at the source. In addition, the charged plasma induces particles to coagulate or stick together making them bigger and easier for your filter to catch. Hydroperoxides occur naturally in the earth's atmosphere and are part of nature's process of cleaning the air.
Features & Benefits
Dual ionizers to reduce airborne particulates (dust, dander, pollen, mold spores)
Inactivates SARS-CoV-2 (COVID-19) by 99.9%
Kills up to 99% of bacteria, mold, and viruses
REME® reduces sneeze germs by 99% in the time a sneeze can reach three feet.
New zinc ions kill 99% of viruses on surfaces
Unlike portable units that are limited to the room in which they are placed, the REME HALO® provides whole home and building purification.
Easily integrated with your existing HVAC system. The unit doesn't take away living space and operates silently.
Two (2) quick release features for easy, no tool, cell replacement
Incorporates an adjustable shroud around the REME® cell, which allows customization of the advanced oxidation plasma output.