Plumbing accessories for your North Salt Lake City home.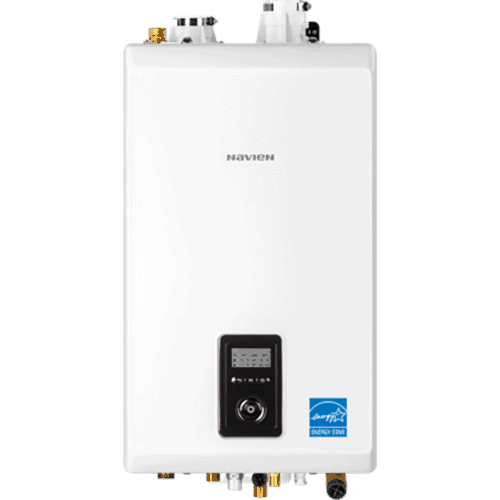 Navien NCB-H Condensing Combi-Boiler
The Navien NCB-H lineup offers homeowners higher turndown ratios, wider BTU ranges, longer venting for more flexible installation, an all-new easy-to-use multi-line LCD display with improved controls and intuitive navigation, and an upgraded domestic hot-water module.
Highest DHW maximum BTU's in residential combi-boilers... up to 210,000 per hour
Highest DHW flow rate @ 70°F rise... up to 5.4 GPM
Highest number of BTU sizes for the North American residential combi-boiler market
Highest residential combi DHW TDR... 15:1 for all models
Highest residential combi heating TDR... up to 11:1
Highest number of built-in zone controls for valves or pumps... up to three
Highest full lineup 2" PVC venting lengths... up to 65 feet
Highest number of cascade capable units with NPE tankless water heaters... up to 15
High altitude certification... up to 10,100 feet (NG or LP)
Lowest minimum fire BTU for residential combi-boilers... as low as 10,700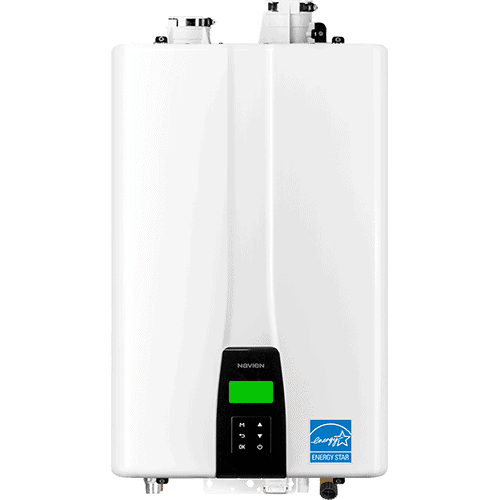 Navien NPE-S2 Standard Condensing Tankless Water Heater
The NPE-S2 condensing tankless water heaters are so efficient that they outperform much larger capacity non-condensing competitors. More output for the money, lower installation costs and lower operating costs for customers making it the best choice for your next installation.
½ gas pipe capable up to 24'
Field convertible gas system
Ultra condensing efficiency
Dual stainless steel heat exchangers
Low NOx emissions (20ppm)
SCH 40, 2" venting up to 75'
Cascading capable
EZNav multi-line control panel
Built-in HotButton control panel
Common vent up to 12 units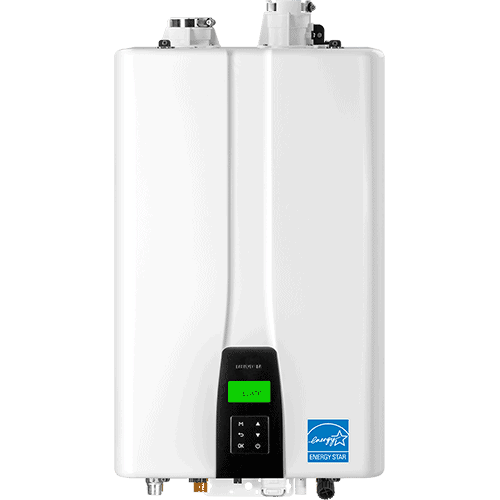 Navien NPE-A2 Advanced Condensing Tankless Water Heater
Navien NPE-A2 simply a smarter hot water system for today's life styles.
Navien's patented ComfortFlow® system is the first to include a buffer tank, recirculation pump and fine-tuned controls into a tankless water heater, resolving the cold-water sandwich effect* and issues of minimal flow rates commonly found in other tankless water heaters.
The built-in recirculation pump allows the NPE-A2 to recirculate water either through an external recirc line or through existing supply lines while using NaviCirc®, without the need for external pumps or controls.
Navien's new backlit EZNav™ control panel uses simple text and icons to make set up, operation status and troubleshooting faster and easier than ever before.
½ gas pipe capable up to 24'
Field convertible gas system
Ultra condensing efficiency
Dual stainless steel heat exchangers
Low NOx emissions (20ppm)
SCH 40, 2" venting up to 75'
Cascading capable
EZNav multi-line control panel
Built-in HotButton control panel
Common vent up to 12 units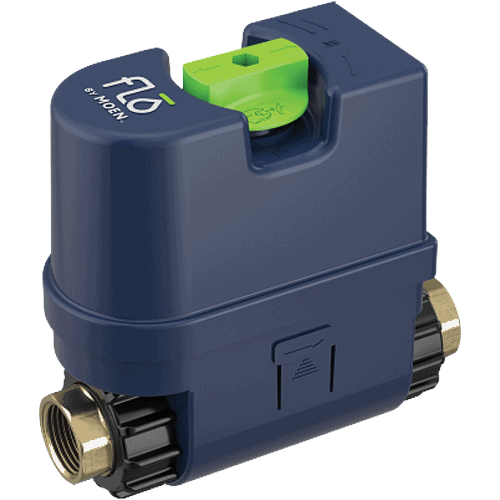 Flo By Moen Smart Water Shutoff
Bring smart plumbing to your home with Flo by Moen. This Smart Home system is the first water security system that monitors and protects your home from leaks and water damage with a single smart water valve, no additional sensors needed. Designed by plumbing and tech industry professionals, Flo by Moen is installed on the main water supply line of the home. Through the Flo by Moen mobile app or your web browser, you can see live water use, including water flow rates, pressure and even temperature. If the smart water valve detects an issue (e.g. high pressure, freezing water or a small leak) it will alert you through the app so you can fix it before that issue causes damage. If there's a catastrophic failure, like a burst pipe or someone leaves the water running, you'll be alerted in the app allowing you to shut the water off - no matter where you are.
Remote and automatic options to shut off valve help to prevent catastrophic damage
24/7 protection from catastrophic water damage, allowing you to turn your water on/off from the app manually, or Flo by Moen will automatically turn off the water for you to protect the home
Daily leak tests using MicroLeak Technology that proactively monitors the security of the home's entire water system (including behind walls and in foundations) to identify leaks as small as a drop per minute (e.g. pinhole leaks, etc.)
Get all of your alerts in real-time through your Flo by Moen app
FloSense Technology enhances Flo the device security parameters and optimizes water savings by understanding the homes water use and tailoring protection to each home
Use the app Dashboard to see how much water you're consuming daily and set conservation goals to encourage saving water and money for your home
See live water use including: water flow rate (gpm), pressure (psi) and temperature using the apps control panel
See historical data of your home's water consumption
Compatible with 3/4 - 1 1/4 in. pipe diameter (consult a professional)
Compatible with: Alexa skills and Google Assistant; no smart hub or system required; requires Wi-Fi connection; requires standard AC/DC power connection
No point sensors or other leak sensors needed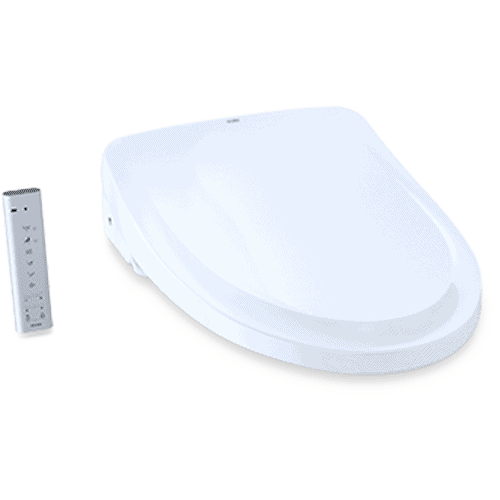 Toto Washlet® S500E Classic - Elongated with EWATER+
Ecology-minded luxury in a design that works with your classic styled toilet, this bidet seat WASHLET features the technologically advanced ewater+ system, which mists and cleans the bowl after every use (see Smartfact below). Fully automated, including remote control and heated seat.
High-tech electronic bidet seat
EWATER+® on wand and bowl
WASHLET cleansing with 5 spray settings
Built-in air deodorizing system
PREMIST® of bowl before each use
Adjustable water and seat temperatures
Warm-air dryer
Easy-to-read illuminated remote control
Convenient magnetic wall mounted cradle
Compact and slim design
2-user personal memory settings
Self-Cleaning Water Wand
Instantaneous water heating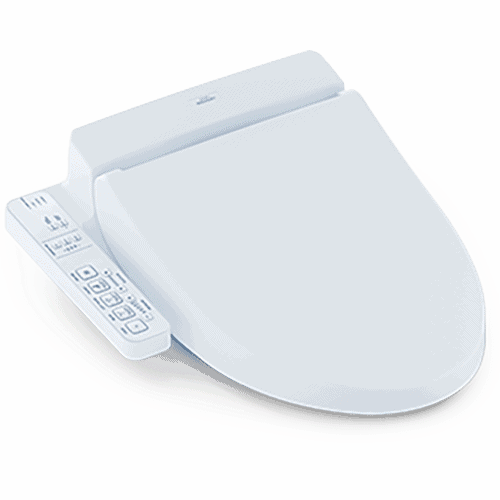 Toto Washlet® C100 - Elongated
The entry-level bidet seat WASHLET C100 features a streamlined design with a convenient side remote control panel. It also ensures a hygienic and refreshing experience with an automatic deodorizer and a PREMIST® that helps to keep your toilet bowl clean.
High-tech electronic bidet seat
Gentle Aerated, Warm Water, Dual Action Spray with oscillating feature
Adjustable water temperature and volume
Warm air drying with five variable temperature settings
Automatic air deodorizer
Convenient arm control panel
Docking Station Easy to Install and Clean
Heated Seat with Temperature Control
PREMIST® of bowl before each use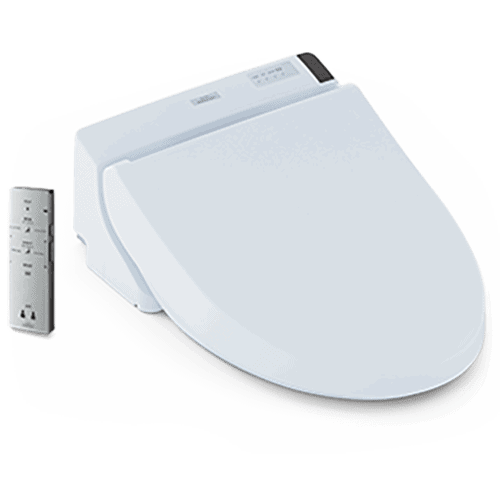 Toto Washlet® C200 - Elongated

The bidet seat WASHLET C200 includes an easy-to-use remote control with an illuminated touchpad. The PREMIST® function sprays the bowl before each use, helping to keep your toilet bowl clean. The C200 provides a satisfying cleansing experience every time.
High-tech electronic bidet seat
Gentle aerated, warm water
Dual Action spray with oscillating and pulsating feature
Adjustable water temperature and volume
Warm air drying with five variable temperature settings
Automatic air deodorizer
Convenient slim wireless remote, with illuminated touchpad
Elongated heated seat with temperature control
PREMIST® on bowl before each use